How has learning changed during the pandemic?
Introduction:
Did you know that the pandemic breakout has led to over 1.2 billion children, in 186 countries to be out of school? According to UNESCO, in India alone, the closure of educational institutions has affected almost 32 crore students.
The closing of schools and educational institution has forced the academic field to look for solutions through e-learning, through digital platforms.
We have now reached a point where we wonder if this online learning will continue post-pandemic too.
According to BARC India, there has been a 30% increase in the time spent on educational apps.
What is e-learning?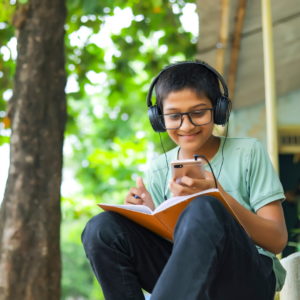 In India and other countries, the classroom has now become virtual, since the pandemic breakout. Schools are now dependent on conferencing apps like Microsoft Teams, Google Meet and Zoom, for conducting the classes and on WhatsApp for sharing assignment and school circulars.
This has led to a sudden boom in business for many online learning platforms, who sometimes offer free access to their services too. Though the pandemic has changed the schools from chalk-board to technology-driven models, this can never replace the real-life classroom experiences that students are missing, like, peer learning, extra-curricular activities, sports, emotional development and leadership qualities.
Can everyone afford e-learning?
Private schools have been able to move to e-learning solutions easily, in comparison to the government schools, which are facing the challenges due to sudden closure.
Many low-income families had to make ends meet to afford the smartphones or laptops for the children, which would otherwise create a gap in the students learning. Many are still not able to afford the same. In many cases, one phone or laptop is shared between the members, hence the access to e-learning is further restricted.
Accesses to sustained electricity is another problem faced by the schools and the students in many parts of the country.
Parents are also finding it challenging to be able to work from home, continue with the household duties and sit with children during online classes, especially the younger ones.
The positive aspect of this situation is that schools are now able to reach the remotest location and hence led to effective learning and teaching.
E-learning for all – 
Many states and districts, where the reach of technology has been a challenge, have adapted to innovative methods to help the delivery of education. A few examples would be –
Some of the state governments have joined hands with Doordarshan and All India Radio (AIR) to broadcast the classes through regional channels, which is being an excellent help for rural students and visually impaired students too.
Chhattisgarh government has joined hands with UNICEF and launched a 'SAJAG' program, where they train the Anganwadis and volunteers as support for children's education at home.
Odisha government has launched 'Ghare Ghare Arunima' program, wherein, a set theme for the month, with the materials, are sent to Anganwadi workers, who reach out to the parents to engage children with activity-based learning.
In some districts in Jharkhand and Haryana, teachers have resorted to using loudspeakers to conduct classes for students with no internet access.
Some teachers are also using YouTube as a platform for taking classes so that students can view them when they have internet access.
Many of the educational portals are giving unlimited offers to teachers and students for better editing of projects, smart calendars, auto-translation features and other tools, to make learning convenient and accessible for a long time.
Students are seen enrolling for newer courses online, as they don't need to travel, making it convenient to learn more in the available time.
Teachers are making the best of their creativity and taking up every challenge to make sure the learning doesn't stop, even though many have are faced with financial dip, due to decreased or unpaid salaries.
Conclusion –
Government of India under the program e-vidya has launched 12 new TV channels (K-12)* and use of radio for students with no access to high-speed internet.
The market for online educational platforms is expected to see an increase of 6.3 times, equating to almost 1.7 billion USD.
E-learning platforms on the internet are offering multiple courses, free online content and assessment parameters to enhance the learning experience.
Teachers will also have to update themselves on various tools and techniques to teach in an online classroom.
*Reference: