Women Entrepreneurs : Bhakti Motta (Rainbows and Hues)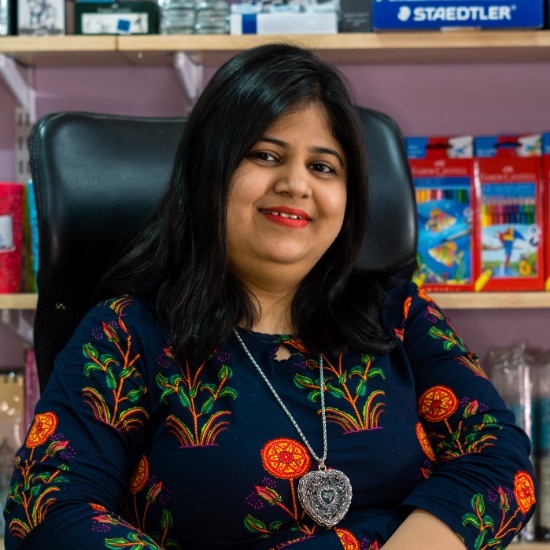 Bhakti has 10 years of experience in distribution and wholesale in the garment industry. Recently, she started her own stationery store called 'Rainbows and Hues'
Instagram: @rainbowsandhues
1. When did you know you wanted to take an entrepreneurial path?
Having my family members in the garment industry and business, I always wanted to do something in business but wasn't sure what particular industry to go into. I often thought I would join the garment industry, but I didn't find it to be the calling I was looking for. It took me time to go through the journey and learn some lessons on the way to the path I am on now.
2. How do you decide what to stock up on especially since you have a variety of products? Do you follow any shopping trends?
Generally, I don't follow any shopping trends, it's all based on my research. As an artist, I wanted to start my own business. In 2019, I found that the product sellers weren't very knowledgeable about their product. There are four types of watercolour paper. Therefore, the sellers are not aware of the perfect paper to use. I realized that this industry has a lot of room for improvement. Because all schools are closed in Hyderabad due to the pandemic, art supplies like drawing books and colours for children are in high demand. Therefore, we stock up on what our customers need.
3. How did you come up with the name 'Rainbows and hues'?
While I came up with the entire idea, I couldn't find a name. As a result, when I visited my partner, my best friend, she came up with the name 'Rainbows and hues' as she completely understood me. She understood what I wanted to achieve. At the moment, it is a store, but in the future, it will be a place for everyone to learn. Additionally, it's a place where people can collaborate with artists. Within a year or two it will also be a place where you can exhibit your art. R & H will be a community.
4. What goals are you still working towards achieving?
The first step is to launch our website so I can directly communicate with my clients and artists, so they can buy everything under one roof. The in-house brand 'my art pitara' will be a readymade kit that includes all products and supplies. If you wish to learn water-colouring, for example, all the products will be available in this pitara. We were unable to start classes because of the pandemic, but we hope to start classes soon.
5. Which is your favourite stationery?
It's difficult for me to choose just one. I currently have a book on my desk. I had bought this book when I was a child, and it comes with a lock. I am a complete stationery hoarder and I love all the stationery products. So now that I own a shop, I can collect all the stationery products and sell it. Another favourite stationery is a good pen. You must have books and pens in your life.
6. How would you handle a client you were unable to form a positive relationship with?
We already have a conversation with customers who buy online. We had a customer who had placed an online order for the first time. They asked for photos of all the products and feared not to receive them. So I had a conversation with them and assured them that they would get their order in time. It was important to let the customer trust us especially since it was their first online order. Speaking with clients is very useful.
7. What difficulties did you face initially as a female entrepreneur?
I had no plans to set up a physical store immediately. The plan was to sell products online via Instagram for a period of time, then start a store. But within a month, I had the opportunity to set up a store. The shop needed a lot of changes so I used to tell the workers about the changes and they didn't agree. But when my father and brother tell us the same thing, it seems logical to them. There were some financial issues as well. If somebody wants to get into business, they need to save money first. I wish I knew that sooner. But it is important to save money at the beginning of your twenties to help you in your future.
8. Do you provide a web ordering experience? How do you sell your brand?
Presently, we sell products on Instagram and WhatsApp. One month from now, we will have a website that will help us reach more customers. We also sell on Amazon, as mentioned earlier, I write a short word for every customer. Few customers come to us looking for other products and become our customers. There are executives who are willing to work with us by reviewing positive client feedback. I maintain positive relationships with my customers and those I do business with, which helps us sell our brand.
9. Which 3 words will they use to describe the shopping experience with Rainbows Hues?
The store is very organized. Our customers can come in and check out the products showcased. Clients do not need to request the availability of a product like other stores. The physical structure of the store is different and it provides a good vibe. We built this place so customers don't need someone to help them out. We provide assistance only when necessary. Our clients are looking forward to the start of our workshop.
10. What are your biggest learnings so far?
First, my whole journey of all the different roles is now coming together and making sense. I've been a writer, photographer, traveler and all this is helping me right now. Even if a few things didn't work in the past or if you failed, you will learn from those mistakes.
11. What advice would you give women small business owners?
Dream big. Women of Indian origin tend to dream small. Nothing is impossible. We need to be more confident and be ready to fulfil our big dream. I had thought of starting this store after two years, but this place is huge with ground plus two floors. I couldn't let this opportunity pass. When a good opportunity comes, grab it. Grab the opportunities whenever you get the chance.
12. What is your favourite print on stationery and why?
We have books with prints and the word 'gratitude' written on them. The prints are very beautiful and soothing. I own one of the books and I use it as my journal to write at least five things I am grateful for every day. I write the things I want in life as a form of manifesting.
13. Do you stock up different stationery for different festivals or days?
We started two months back, so the first festival we had was Christmas. We had stock things up with a Christmas theme. There were gift wrappers, moulds with Christmas ornaments. Valentines' day is coming soon, so we have stocked up heart shape canvas and trying to get heart shape keychains. We try to stock things up according to the trends, festivals, etc. We're trying to make this store a one-stop shopping experience where all the products are available for our customers.