Homebaker: Deep's Cake Magic
Deepali Salvi recently started her own home-baking business 'Deep's Cake Magic'. A commerce graduate and a media professional; she started this venture during the pandemic.
Instagram: @deepscakemagic
What inspired you to start this business?
Time! I am a media professional and have been working for the last 18 years in this field. I am in a senior position in the media company I am working at. Although I was happy with my career, I could never find time to pursue my passion. The passion of BAKING! More than baking I was drawn to the creative part of designing a cake. The lockdown during the pandemic gave me ample time. I was always fascinated with cakes and started exploring various designs and flavours on the internet.
2. When was the first time you remember baking something?
I have never baked before the lockdown. During the lockdown, I baked my first chocolate cake and it turned out to be delicious.
3. What are your favourite techniques you use daily as a baker?
As a home baker, I only use products and ingredients of good quality. If the quality of the ingredients is good, the output will be good always!
4. What challenges have you faced while starting your business?
As a home baker, the first challenge is putting your brand or product out to the target group. The second challenge is to reach out to new customers.
5. What duties do you expect to perform on a daily basis? How would you manage them?
I have a set routine. I manage my office work and also plan my time for baking cakes. The work needs to be in sync. I wrap my work by 6.30 pm and then start baking and decorating cakes until midnight.
6. How do you organize, plan and prioritize your work in the baking profession?
To plan and prioritize, I ensure I do not take last minute orders. This can affect my quality and finesse. I take orders 2 or 3 days in advance. This helps me plan and organize my balancing act.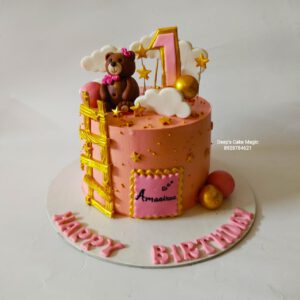 7. Which skills do you think are important in your field?
There are many home bakers, but if you want to stand out, you need to offer something different. I invest a lot of time in reading on different flavours. I experiment with recipes until I don't get the desired outcome. I update myself on the latest trends in cakes, flavours. It is important to invest time and effort in this competitive creative business.
8. Describe your most challenging baking project. How did you overcome it?
Every new cake is a challenge. You need to have faith in yourself and trust your instincts. Don't panic.
9. What impact has the pandemic had on your business?
I made the best use of the pandemic. It was a stressful time but baking calmed me down. It was like therapy.
10. What are your short-term and long-term business goals?
I would want to focus more on different tastes and designs. My long term goal is to have my own cake shop someday.
11. What advice would you give women small business owners?
Even if you are a working professional, you should always think of having a parallel income. Women have a lot of unexplored potentials. We need to explore it and never give up!